Fall Camporee: Timbersports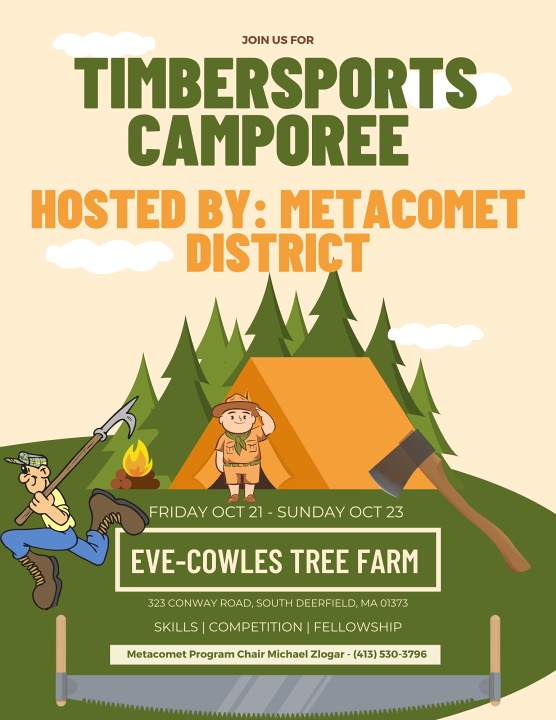 Date:
Oct 21, 2022 to Oct 23, 2022
Location:
Eve-Cowles Family Tree Farm
323 Conway Rd
South Deerfield, MA 01373

Theme: Timbersports
Deadlines:
Intent to Participate Form due by end of day on Sunday, September 25, 2022
Finalize attendance numbers with non-refundable payment by end of day on Friday, October 7, 2022
Camporee Fee
The Camporee fee reflects the costs to bring this program. The fee includes a patch for each participant, recognition ribbons, insurance, facilities and all other expenses for the event.
The cost is $ 15.00 per person for Scouts and Adults
---
Planning Meeting: Tuesday, September 27 at 7:00pm via Zoom
CLICK HERE to Join Zoom Meeting
Call into the meeting at:
646-558-8656, Meeting ID: 893 9496 9117, Passcode: 154072
---
Camporee Overview
The camporee program is based on traditional skills used by loggers and woodsmen. Many of those skills are still used today. Some of the skills that are no longer used are kept alive in woodsmen competitions across the country. The competitions are held by professional woodsmen, collegiate teams, and folks who strive to keep our history alive.
The camporee program will give you the opportunity to learn these skills and then demonstrate you skill competing against other Patrols.
Morning
Instructional sessions will include skills you will use in the afternoon sessions and information about the care and techniques of tools used by woodsmen.
Axe and knife sharpening
Chopping techniques
Bow saw techniques
Double buck crosscut saw techniques
Moving logs and pulpwood
Fire building
Burling
Cordwood toss
Afternoon
Patrols will compete in Timbersport contest events.
Bow Saw
Double Buck Crosscut Saw
Chopping
Fire Building
Burling
Tomahawk Thowing
Cordwood Stacking
Through the Woods Relay
Cordwood Toss
Sharpest Axe
Sharpest Knife
| File Name | Description | |
| --- | --- | --- |
| Fall Camporee Flyer | | Download |