WMBSA to honor Westfield Bank's Bill Wagner at 2018 Distinguished Citizen Award Dinner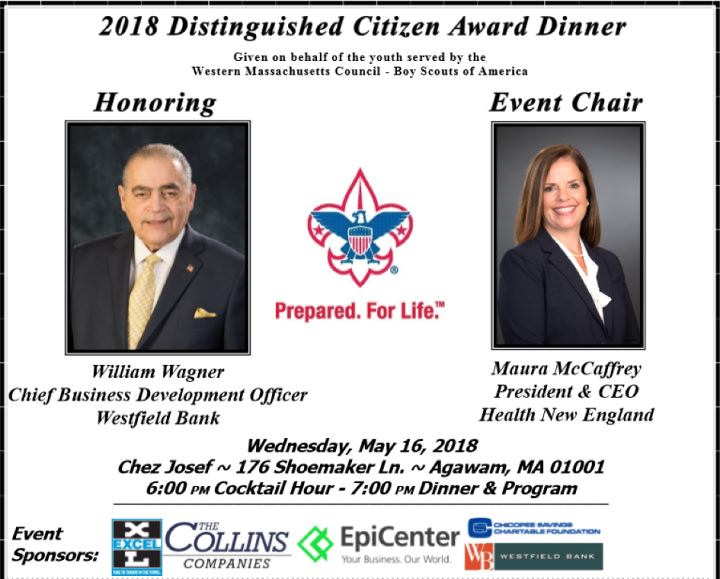 William "Bill" Wagner, Chief Business Development Officer, Westfield Bank. The Western Massachusetts Council of the Boy Scouts of America will honor Wagner at the 2018 Distinguished Citizen Award Dinner on May 16 at Chez Josef in Agawam, beginning with a cocktail hour at 6 p.m.
On May 16, William "Bill" Wagner, Chief Business Development Officer and Vice Chair for Westfield Bank, can proudly add Distinguished Citizen to his diversified list of well-earned community accolades.
The Boy Scouts of America – Western Massachusetts Council (WMBSA) will honor Wagner at the 2018 Distinguished Citizen Award Dinner at Chez Josef in Agawam, beginning with a cocktail hour at 6 p.m.
"Bill's demonstrated devotion to community serves as an excellent example to our Scouts," Jeff Glaze, WMBSA president, said of Wagner. "In addition to his positions within the banking industry, Bill has held countless leadership roles with local nonprofit organizations and well-known institutions. It's no wonder that many have formally recognized his outstanding contributions, and we're pleased to be the next to do so."
WMBSA is pleased to have Maura McCaffrey, President & CEO of Health New England, as this year's event chair, and we look forward to welcoming entrepreneur and former NBA player, Ernest "Ernie D." DiGregorio, as our inspirational guest speaker. Brian Touhey, President of the Collins Companies and last year's honoree, will present Wagner with the 2018 award.
Prior to his current position with Westfield Bank, William Wagner was President & CEO of Chicopee Savings Bank since 1984 and is currently president of its Charitable Foundation. Having served as President and Chairman of the Board of Chicopee Bancorp, Inc., since its formation in 2006, Wagner was nominated to serve as a director of the Western New England Bancorp Board in 2016. Wagner and Chicopee Savings Bank have received many recognitions as a result of Wagner's leadership and direction of the bank's philanthropic support.
Outside of the banking world, Wagner is well known throughout the community as a director for the Eastern States Exposition (Board, Vice-chairman), the Economic Development Council of Western Massachusetts and the Westmass Area Development Corporation. He is the past Board Chairman for Holyoke Community College, served on the board of the Sisters of Providence Health System and is currently an active member of several other organizations.
Wagner is a recipient of The Warren Group/Bank & Tradesman's 2013 Community Bank Hero's Award; the 2016 Benevolent Protective Order of the Elks Chicopee Lodge; the 2013 Chicopee Boys & Girls Club's 2013 Prescott Founders Award; the 2010 Bishops' Catholic Schools Award from the Diocese of Springfield; and the 2006 First Annual Presidential Award from Elms College, among numerous other prestigious distinctions.
A cum laude graduate of Western New England University with a Bachelor of Business Administration degree in accounting, Wagner received an honorary Doctor of Law degree from Elms College in 2003.
Guest speaker, Ernest DiGregorio, played in the NBA from 1973–1978, earning Rookie of the Year with the Buffalo Braves (now the Los Angeles Clippers) and later playing for the Los Angeles Lakers and Boston Celtics. Prior to his professional turn, DiGregorio was among the "Friar Legends" who helped lead the Providence College basketball program to its first Final Four appearance in 1973.
Since his retirement from the NBA in 1981, DiGregorio has proven a savvy business leader and entrepreneur. He launched his own public relations and consulting firm, which he operated from 1995–2005 before signing on with Foxwoods Casino as a celebrity and public relations host. Since 2015, DiGregorio has served as the president and CEO of ED Tech and co-founded 360 Talent Advisors.
In addition to Touhey, previous Distinguished Citizen honorees have included Denis Gagnon, David Glidden, Sheriff Mike Ashe, Peter F. Straley, Peter A. Picknelly, John Davis, David Southworth, Stephen Davis, Mark R. Tolosky, Chris Mensing, Mike Matty, Al Kasper and Eugene J. Cassidy.
On behalf of WMBSA, we hope you'll join us for the council's largest fundraising event of the year. For ticket information and registration, go to wmascouting.org/dcad2018.