Cub Scout Day Camp - Lenox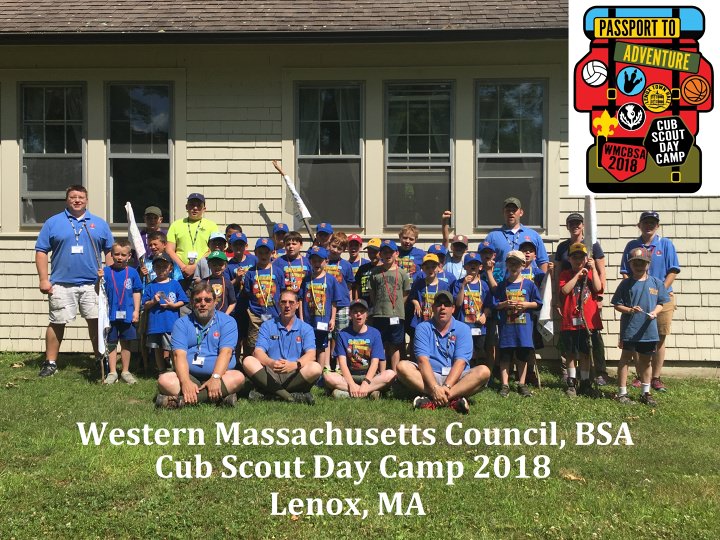 St. Helena's Chapel & Lenox Sportsmen's Club
245 New Lenox Rd, Lenox, MA 01240-2242
---
SAVE THE DATES
July 8-12, 2019
FEE SCHEDULE
$75 per scout: Reservation Deposit Recommended by March 15 (non-refundable)

Register now, as dens are limited to first 8 registrations
Reservation deposit is deducted from the cost listed below
Siblings receive a $25 discount (contact Camp Director to have this applied before making your final payment)
Multiple Week Campers receive a $50 discount for each week after the initial week (contact Camp Director to have this applied before making your final payment)
$175: Balance Paid IN FULL before May 31st (a $50 discount!)
$225: Balance Paid IN FULL from June 1st to 2 days before camp
$250: Balance Paid IN FULL 2 days to the start of camp
REFUNDS
Refunds will be handled on a case-by-case basis. A request for a refund must be done so by emailing steven.roberts@Scouting.org. "Homesickness" is not considered to be a refundable medical reason.
REQUIRED HEALTH INFORMATION
Due to Massachusetts and BSA licensing requirements, you must submit for each child and adult enrolled in our camps, a BSA Annual Health & Medical Record parts A & B, front and back copy of health insurance card, and a physician's Certificate of Immunization (current within last 12 months and signed by a physician). *If your family has decided to not immunize your child, a waiver must be provided.
Specific state immunization information can be downloaded below.
These are REQUIRED to be submitted prior to campers and staff arriving at camp and inspected by the local Board of Health. Please note that these forms must be provided each year.
Please write at the top of the first page which Day Camp Week(s) it is for.
It is preferred that you mail a copy of these to our Cub Scout Day Camp Medical Officer no later than the Monday prior to the start of the week you are participating in at: Jason Dorval, PO Box 805, Chicopee, MA 01014.
Submitting now will allow them to be reviewed prior to your arrival and speed up the Monday medical check in process.

These medical forms will not be returned at the conclusion of camp, as state regulations now require camps to maintain these records.
These may also be faxed to (413) 562-1041, or dropped off/mailed to: Western Massachusetts Council, ATTN: Day Camp, 1 Arch Road - Suite 5, Westfield, Massachusetts 01085 (OR 141 North Street, Suite 101, Pittsfield, MA 01201), though it is recommended to bring another copy to camp just in case they are not received by the camp health officer.
VOLUNTEER and PAID STAFF OPPORTUNITIES/BENEFITS
Our day camps are administered by nationally trained staff, but are run totally by volunteers (Scout leaders, Boy Scouts and Venturers, and family members)! We always need more volunteers to make these camps run smoothly. CLICK HERE for more detailed staff information.
Please ask how you might volunteer - no prior camp or scouting experience necessary!
Spend a week with your child and their Scouting friends experiencing camp.
Camp Registration Refunds of $100 will be given back to families that have completed staff training, volunteered for 5 days of Day Camp, setup Sunday afternoon prior to camp, and completed a post-action report.

Volunteers are welcome even if you may only be available for a few days. Contact the camp director for more information.
DAILY SCHEDULE
08:30 Arrival and Sign In (Monday Only: 08:15 Registration and Medical Check In)
08:45 Opening Ceremony
09:00 Round-Robin Programming
03:00 Closing Ceremony
03:30 Sign Out and Departure
Need help with the registration process? Visit users.tentaroo.com for directions.
| File Name | Description | |
| --- | --- | --- |
| Annual Health & Medical Record Form | BSA Annual Health & Medical Record Form Parts A & B | Download |
| Campership Application | 2019 Campership Application- Due BEFORE April 5, 2019 | Download |
| Certificate of Immunization Form (Optional) | Use this form or another that your physician's office can produce from their computer system. MA DPH says a Certificate of Immunization shall mean either: (1) any form or letter signed and dated by a physician or designee, or (2) a dated report from the Massachusetts Immunization Information System; provided that either document specifies the month and year of administration and the type/name of the vaccines(s) administered to the camper or staff person, or alternative evidence of immunity. | Download |
| Cub Day Camp Volunteer Staff Application | | Download |
| Day Camp Family Guide | A guide to what our day camps are all about. | Download |
| MA Immunization Requirements for Camp Youth and Adults | | Download |
| Summer Camp Fee Schedule | 2019 Summer Camp Fee Schedule | Download |