WMBSA to honor Norman Rockwell Museum CEO Laurie Norton Moffatt at 2018 Distinguished Citizen Award Reception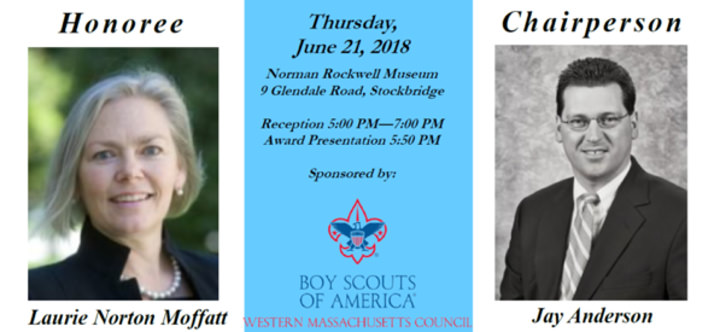 The Western Massachusetts Council of the Boys Scouts of America (WMBSA) will recognize Laurie Norton Moffatt, chief executive officer of the Norman Rockwell Museum, for her contributions to the art community at the 2018 Distinguished Citizen Award Reception on June 21, held at the Rockwell Museum from 5 p.m. to 7 p.m.
The annual award, named for Lawrence W. Strattner, Jr., former president of the Berkshire Life Insurance Company and respected community leader, is presented to a recipient chosen for renowned community service and civic participation as evidenced by involvement and leadership given to worthwhile organizations and causes.
"Laurie's commitment to the community demonstrates an excellent example to our Scouts," said Jeff Glaze, WMBSA president. "The growth and dedication Laurie has provided to the Norman Rockwell Museum and the American art community speaks volumes to her abilities as a local leader. We are honored to join the growing list of organizations that are recognizing Laurie for her community contributions."
A leading scholar of American illustration art, Moffatt authored the Norman Rockwell catalogue raisonné and led the growth of the museum from a small house in the artist's hometown to be a global leader in illustration art exhibitions, scholarships and digital collections connectivity. She founded the Rockwell Center for American Visual Studies, the nation's first art history scholarly institute in American illustration art, which is a hub of illustration art collections and libraries across the country.
In recognition of the Museum's national service, President George W. Bush bestowed the National Humanities Medal to the Museum and President Barack Obama invited Moffatt to the White House with Norman Rockwell's painting The Problem We All Live With to commemorate the 50 anniversary of the Civil Rights Movement. A national arts leader, Moffatt has served on the boards of the American Alliance of Museums and Association of Art Museum Directors, and currently sits on the boards of Berkshire Bank, Berkshire Health Systems and Connecticut College.
Moffatt earned her Bachelor of Arts degree in art history from Connecticut College and her Master of Business Administration degree from University of Massachusetts.
On behalf of WMBSA, we hope you'll join us for the council's largest fundraising event of the year. For ticket information and registration, go to wmascouting.org/dcar2018.