Virtual Nova Nights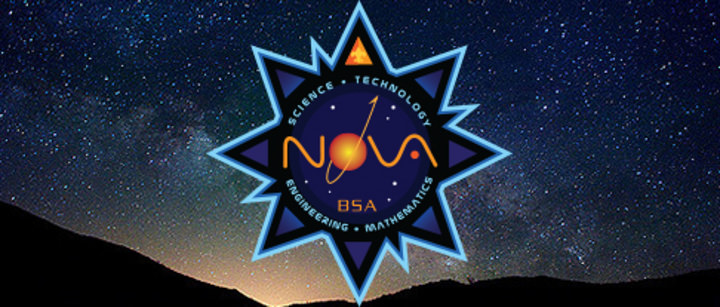 On a Saturday evening once or twice a month we will be hosting a Nova Night, starting on October 24th, 2020, and running through March 27th, 2021. We will be covering 9 out of 11 Nova Awards through these events. Each class will be capped at 25 participants and will run for approximately one hour, from 7:00 PM to 8:00 PM, via Zoom. An individual zoom link will be sent out to the email that has been provided through registration. Scout may sign up for as many as they would like. Registrations made close to a session may result in materials arriving by mail after the session, but the award can still be worked on and completed.
The Nova program is open to all Wolf, Bear, and Webelos Scouts. The participants will have some prerequisites work, in classwork, and some homework to complete the Nova award that they have signed up for. To show that the Scout has completed the work they will need to submit all of their work to the counselor in order to receive confirmation of completion of work. The work will be submitted to ATNovanight@gmail.com. Each participant will receive a box or an envelope with supplies for the Nova that they are signed up for.
Scout participants will get an email with some videos that they can watch for their prerequisites and each Scout will need to have their prerequisites done before class starts. To receive credit for in-class activities, each Scout will need to have their video on and have their name and Pack number in the name box so we can take attendance. All Scout will need to have their microphone muted unless they have been called on to answer a question. At the end of each Nova session, each scout will receive a list of all completed work to be able to give to the Advancement Chairperson in their Pack.

COST:
$10 per session
$20 for designated sets (Session 1-3, 4-6, 7-9)
$60 for all nine sessions
If you would like the multiple session discount please do not register below instead contact Jazmine Forgey at Jazmine.Forgey@Scouting.org or by phone at 413-594-9196 extension 7033 to acquire a multiple session discount.
SCHEDULE:
October 24th – Down and Dirty
November 14th – 1-2-3 Go
December 12th – Uncovering the Past
January 16th – Tech Talk
January 30th – Up and Away
February 13th – Fearful Symmetry
February 27th – Science Everywhere
March 13th – Cub Scouts can Code
March 27th – Swing!